Guelph's Premier Source for Fine Chocolates, Candy, Ice Cream and Desserts!
22 Carden St.
Downtown Guelph
519 - 824- 5797
The man with the sweet tooth: Carden Street business owner opens new Guelph candy store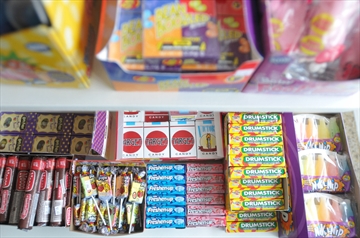 Sweets and treats
Alex Migdal, Mercury staff
Guelph Mercury
GUELPH — Bryan Munn may have the hardest job in the world.
Each day, he stands amid a cornucopia of candies, buckets of ice cream, trays of truffles and display cases stocked with French pastries.
For someone with a sweet tooth, the job can prove dangerously delicious.
"It's a tough job, but somebody's got to do it," he laughs. "I'm going to have to be very careful. There certainly has been a lot of sampling and taste testing."
Thankfully, Munn has only been at it for a week, so he's yet to develop a stomach ulcer. But customers are gobbling up his offerings at Sweet! Candy, the latest addition to downtown's Carden Street.
On a visit Wednesday afternoon, a customer brings a package of sweets to the till. "What are these exactly?" he asks Munn.
"Those are cheesecake-flavoured!" Munn exclaims. Oh, and have you heard about their sushi flavours, too?
Most arresting are the packages that line the shelves. Chocolate-coated pretzels bundled in white ribbons. Bonbons wrapped in swirls of rainbow.
It's all part of the store's "retro soda jerk" vibe, "just like you remember from when you were a kid," Munn says. "We want to capture that dream memory of a candy shop."
The aesthetic runs right down to Munn's outfit: a pink shirt, striped red apron, black bow tie, Converse sneakers and a white paper hat that a gust of wind will occasionally blow off.
Munn fell down the rabbit hole, so to speak, a few summers ago when he and his wife, Kara, were eating ice cream in front of their other Carden Street store, Royal Cat Records.
Under the sweltering sun, they couldn't help but notice the number of people asking where they'd gotten the ice cream.
And just like that, an idea was scooped.
After waiting a few years for the perfect space to open, Munn dove into the world of candy. He tracked down distributors and searched for old-fashioned sweets and unusual finds.
Opening a candy store comes with finer print, too, like maintaining the perfect temperature for ice cream so that it doesn't melt but is easy to scoop. Or finding the number for a refrigerator repairman at 11 p.m. shortly after ordering your first load of ice cream.
Months of preparation and slip-ups — including, who would have thought, ordering too much candy — led to the store's soft launch last Saturday.
About 250 people visited the store over its opening weekend, mostly passersby struck by the store's colorful façade.
"I think people are mostly overwhelmed by the selection," Munn says. "They love the colours and the design of the store and the music. I want everything to be fun, even though we're grownups."
Munn fondly recalls trudging to his neighborhood convenience store with a bag of pennies earned from his paper route.
It was there he purchased bags of candy and chocolate bars, thrilled by the independence of shopping for himself.
"In a way, it's a dream come true," Munn says. "Eight-year-old me would have been ecstatic that I was spending my life savings on candy."